Oops, I forgot to post these, they were from the day we stopped in Beaufort on our way to Charleston.
I had been here very briefly several years ago. The morning that Brett, Colin and I stopped it was August, about seventy bazillion degrees out with such high humidity that my sensor and lens completely fogged up AND there were at least eleventy billion bugs out. Fun, right? ;)
I really, really, really wanted to make sure to go by here this trip. Up until this day we had been relying on our phones to navigate. Once we got out of Savannah we lost service though. For two severely directionally challenged women this was TRAGIC. Just getting to Beaufort was a challenge in itself. We had stopped at the Visitor Center in Beaufort to get directions to the Church, but as it turns out the direction they gave us (typed up, so they give them to everyone) were wrong!
Anyhow, we finally found it after driving back and forth on the same (deserted) road 4 times (I kid you not) and then getting on I-95 by accident heading south to Florida in horrible traffic. I was about ready to say forget it and head to Charleston, but we persevered.
All in all, I'm not sure it was worth the effort. The dappled shade was a pain to work with, and there were several other groups of people there (including two portrait shoots going on).
So, there you have it. I am in awe at the history of this church, read this sign:
This next one is Jen's, she got a much better shot than I did of the whole thing. Isn't it amazing: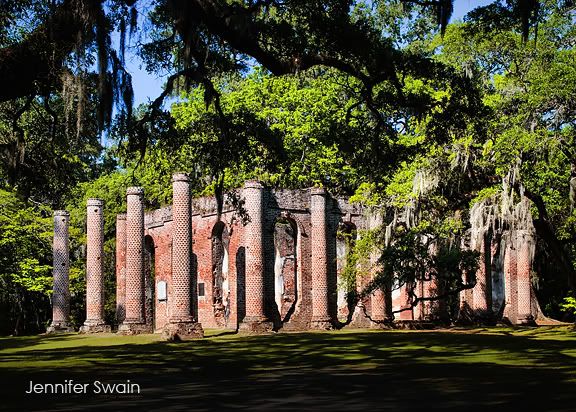 Can you imagine the shots you'd get here in decent light? You'd have to use a flash for fill, but still....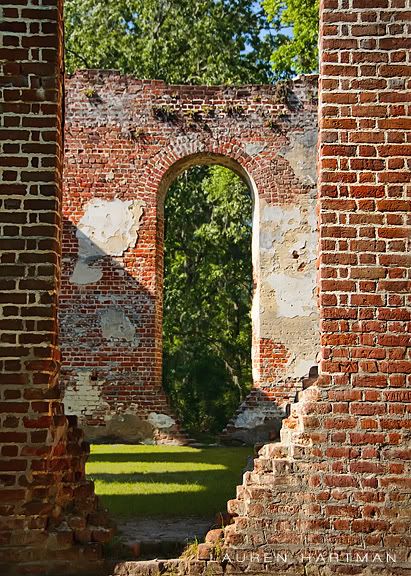 I mean really, look at this texture. I can totally see doing a headshot session with Colin standing RIGHT in that little sliver of in focus area: