Last month Jen came to visit for 2 fabulous weeks! We spent a few days in the area, then hopped a couple of planes and spent a week in Savannah and Charleston, then back here for a few more days. We both love photography, so much of our planning (ok, pretty much all of it) was centered around what to shoot and when. It was blissful!
We knew we wanted to shoot at the tulip fields, and so when her first full day here was forecast to be NOT RAINY, off we went. Unfortunately, the month of March was so rainy, and so dreary that the fields were not yet in bloom. The display gardens were (thankfully) but the fields were still full of daffodils (which quite frankly I find are a PIA to shoot).
When she was here 2 years ago, we happened upon an Alpaca farm, and shot them in the evening light from outside the fence. One of the things she really wanted to do was to find that farm again. When we got there, the owner, Kathy, was out in the fields feeding and cleaning up, so for a minute or two we felt a bit awkward. Once Kathy came over and started talking with us, it was clear how much she loved what she does, and she spent quite a while talking with us about them, their fleece, showing them, babies, the whole nine yards.....she could not have been more gracious.
Eventually Kathy invited us in the fenced area, introduced us to her herd, and then told us we could stay and shoot (she was leaving) as long as we secured the gates when we left. Needless to say that totally made our day! They are so darned sweet, and fluffy, and I wish they were cat sized, I'd totally want one as a pet!
This male was both Jen's and my favorite. I love his markings!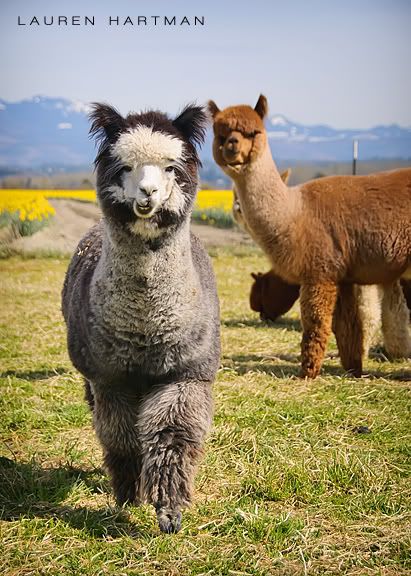 another male: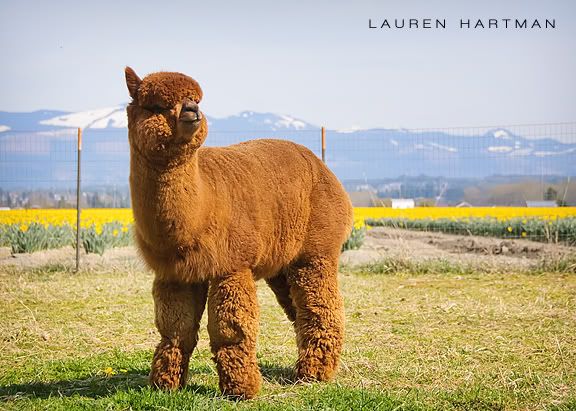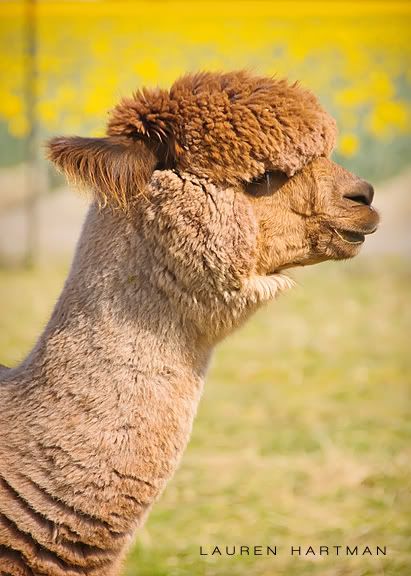 Wasn't it a gorgeous day? Daffodils and the Cascade Mountains in the background :)
Baby Alpaca! They were a bit skittish (understandably), this was shot through a fence. We did get to visit with then up close and personal though, they are so cute!
Kathy (the owner) taught us that to greet an Alpaca, you don't put your hand towards their face, you nuzzle them. Needless to say the first time or two it was a bit disconcerting, but then it was really very nice! I hope Jen doesn't shoot me for posting this ;)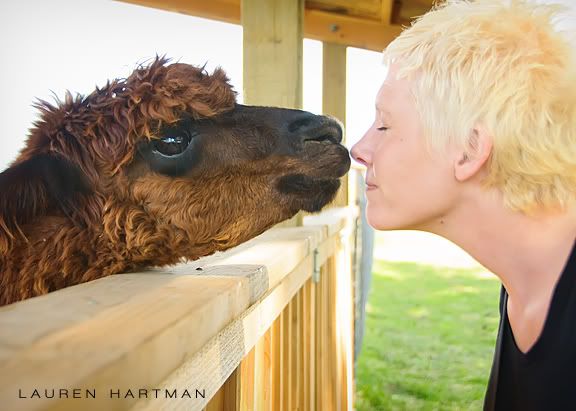 The females were a little less forward than the males, and pretty much kept some distance between us and them:
Dinner time!
I just want to thank Kathy at
ALPACA ADVENTURES
for her kindness, we could not have been more thrilled with our Alpaca experience!