This morning C had a late start day, he didn't have to be at school until 10am (heavenly)! So while he sat in the living room studying and drinking his coffee before leaving, the cat decided she wanted to learn US Government too. Wouldn't it be nice if we could just absorb information by sleeping on top of it? Imagine how smart we would all be! It made it kind of hard for C to read though. :) He's such a softy, he wouldn't move the cat off his lap (and the book) till it was time to head out the door.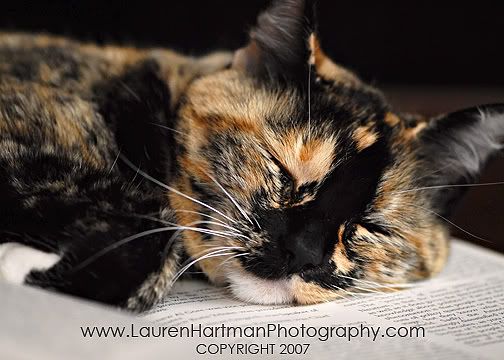 It's been lightly misting out all day long. C found a PERFECT spiderweb with water droplets on it for me to shoot outside the living room window. Unfortunately once I got out there and saw how high it was I was disappointed, I would have had to set up a small ladder in the shrubbery to get to it. Too much work on a cold and wet day. So, I hunted around and found this one which was easier to get to in my gazanias. It had a big, dead spider in the middle of it (who knew they build their web and then die in it?), but I spared you that sight!
Shooting webs is tough. It was very slightly breezy out, but those babies really move even in the smallest of winds. I'll try again another day.